Advanced Orchestra
Jump to navigation
Jump to search
Advanced Orchestra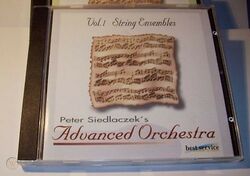 Volume 1 cover of Advanced Orchestra
Information
---
| | |
| --- | --- |
| Manufacturer(s): | Peter Siedlaczek |
---
| | |
| --- | --- |
| Distributor(s): | Best Service |
---
Release date:
1996
1997 (Upgrade 97')
---
Original price:
$149.95 (Individual volumes)
$495 (All 1-5 volume set GIGA version)
$134.95(Compact edition)

---
Format(s):
S1000
S3000
EMU(EOS)
EXS24
GIGA
SIMM(Proteus 2000)
Korg EXB-PCM
---
| | |
| --- | --- |
| Status: | On sale as Complete Orchestral Collection |
---
Credits
Peter Siedlaczek's Advanced Orchestra was a CD-ROM sample series based on classical orchestra instruments.
Content
It has 5 volumes in total:
Volume 1: Strings Ensemble
4 violins
10 violas
8 cellos
6 basses
Volume 2: Solo Strings
Volume 3: Woodwinds
Flutes
Solo flute
Alto flute
Piccolo flute
Oboe
Englishhorn
3 clarinets
Bass clarinet
Bassoon
Contrabassoon
Volume 4: Brass & FX
3 trumpets
Solo trumpet
Piccolo trumpet
3 trombones
Solo trombone
French horns
Solo french horn
Tuba
SFX of all instruments presented in the series
Volume 5: Percussions & Harp
Cymbals a due
Cymbal 24 ̋
Cymbal 18 ̋
Timpani
Grancasa (bass drum)
Snare drum
Large tam-tam (gong)
Thai gongs (tuned)
Chinese opera gongs
Triangles
Vibraphone
Marimba
Xylophone
Orchestra bells (glockenspiel)
Tubular bells
Harp (glissandos, chords)
Editions
Compact Edition
It was a "light" version for samplers with little RAM.
Strings ff & mp (sustained, tremolo, con sordino, staccato,pizzicato)
Brass & Woodwinds ff & mp (stacatto, sustained)
Orchestral Percussion
Harp
Upgrade 97'
It was a 3 CD-ROM set released in 1997 that adds functionality to Advanced Orchestra with new samples and instruments categories.
True Legato Strings
New soundqualities
All the samples in this upgrade were recorded in a modern 10,000 m³ concert hall. While the samples from 1-5 volumes were recorded in a relatively neutral studio.
Bass Flute
New instrument that volume 1-5 doesn't have.
Harp Single Notes
Noise-free single notes in mezzo-forte(mf).
Percussion II
All this percussion instruments were sampled from 2 acoustic perspectives (close-direct and concert hall ambience).
Crotale (tuned antique cymbals)
2 wind chimes
3 shell chimes
Bamboo chimes
Tambourines
Claves
Cowbells
Cascanets
Temple blocks
Japanese bowls
Hollywood Strings
Pre-EQ-ed string section optimized for scoring and modern music production.
Main Library Short Loops
All memory consuming of string, brass, woodwind and percussion sounds from the main library are presented in a short looped versions (for save memory). Contains new velocity switch programs for better dynamic control over fortissimo(f) and piano(p) playing techniques.
Extended Edition
All Advanced Orchestra and Upgrade 97' combined in EXS24 format.
Gallery
See also
External links